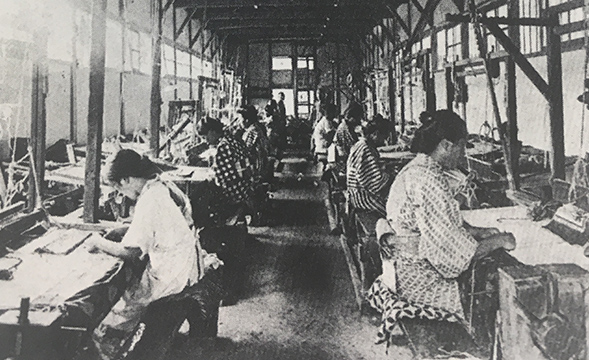 The part of Ako-dantsu rugs factory. Sorce: published by Ako City Tabuchi Museum of Art.
Text & Photographs Courtesy of Ako City Tabuchi Museum of Art "Ako Dantsu Rugs"
Dantsu is a woolly cotton traditional rug originating from China. The "Three Main Rugs of Japan" are the Nabeshima-dantsu from the Saga Prefecture, the Sakai-dantsu from the Osaka Prefecture, and the Ako-dantsu from the Hyogo Prefecture. The Ako-dantsu rug was developed after much trial-and-error by a Hyogo woman who aspired to create beautiful Chinese-dantsu. The softness and delicate designs of the Ako-dantsu rug attracted the attention of Emperor Meiji, and the market was extended overseas until the onset of World War II. Ako-dantsu studios closed one-by-one, and in the post-war era, the industry continued to decline until only one weaver remained who knew this traditional technique. Ako City then opened lessons from the weaver to the public to preserve this important piece of Ako culture, and it has since been revitalized by younger generations who merge the old traditions with fresh new ideas.
Art, music, painting, traditions, and artisanal crafting … these things are the bedrock of a culture. They are loved by all generations, and are not destroyed by fickle changes of fashion. Ako-dantsu rugs as well will persevere.
It has been 150 years since Ako-dantsu rugs were originally designed in the Edo period. For 150 years, this culture and technique has been passed down through the generations. It has seen hard times, like the time there was only one weaver left, or when cotton as a resource was extremely hard to obtain. And yet today, this tradition persists. I think that's simply amazing.
I started making Ako-dantsu rugs in 2012, guided by my roots. I have taken up the mantle laid down by my predecessors including my grandmother, and I couldn't be more pleased or honored to be a part of the next generation of weavers who will keep this beautiful tradition alive. I will keep studying and working hard for the art and culture of Ako-dantsu rugs.
Kazuko Ikegami,
Higashihama Ako-dantsu Rugs
Gallery and Studio.